June 17, 2009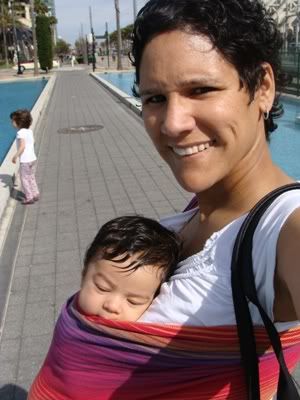 We recently visited San Diego for a little vacation and since I've been using short wraps almost exclusively, I took only short wraps with me. Who made the cut? Didymos Waves Colorgrown 3.6m, Didymos Pfau 2.6m, Girasol Sorbet 2.6m, Girasol No. 26 size 2.6m, Girasol Tropical Sea size 3.6m. If I had my Neobulle Manon Grise 2.6m at the time, I would've taken it, but I didn't get it in time. So…here we went with my short wraps. I wore the Girasol Sorbet from home and it didn't make it past the airport parking lot. Baby pooped on it as soon as I put him in the wrap. Left that one in the car. My husband then pull out Pfau from the suitcase and I wore baby in Pfau from the parking lot all the way until we got to the hotel. Can you say long, tiring trip? 3 small kids in a 4 hour flight equals..Zzzzzzz. But, Pfau pulled it through and was super comfy the entire time. Got a bit dirty during the trip, but because of the print, nothing showed.
Once in San Diego, I mostly wore my Waves Colorgrown and my Girasol No. 26. I wore the Tropical Sea 3.6m too, but we went out to eat one night there and brought home all the restaurant smells right on the Tropical Sea and for some reason it didn't air out enough, so in the dirty laundry bag it went.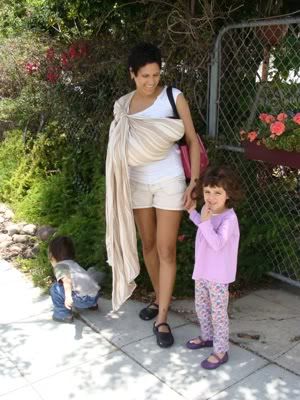 My tails on the Waves Cologrown were quite long and dramatic, but the wrap is so fluffy and comfortable that I didn't care at all. Fashion statement anyone? Sure, why not! Maybe I'll start a trend. ;) He he he
Overall, I did just fine with no stroller (oh, didn't I mention we didn't bring a stroller?) and short wraps. We even went to the great San Diego Zoo with just a short wrap. I think I've official become a short wrap lover and it was great to learn that I can go away on vacation, stroller-less and only short wraps and be more than fine.