January 17, 2009
Neobulle wraps are made in France. They've received rave reviews for amazing support, their beautiful colors and that they are soft when new and get softer when washed. They are made with Öko-Tex cotton and also come in organic cotton.
They are available in various lengths and are approximately 70cm wide. They are very easy to care for – machine washable and can be tumble dried.
From first few washes, these wraps feel like they are broken in.  They feel medium thickness to wrap with, yet are cushy on the shoulders. Neobulle wraps are wide enough for good back and front carries and are supportive enough for both babies and heavy toddlers.
Here are some comparisons of the various colorways.
Manon Rouge & Manon Grise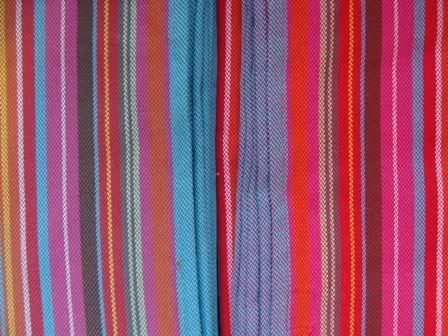 Manon Grise(left) and Manon Rouge (right)
At first glance these two appear to be the same colorways, but upon closer look, you can see the differences. One clear difference is the colors of the rails – blue for Manon Grise and gray for Manon Rouge. Another difference is the base thread on Manon Grise is gray, whereas the based thread on Manon Rouge is red. Below is a closer look at each one.

Close up of Manon Grise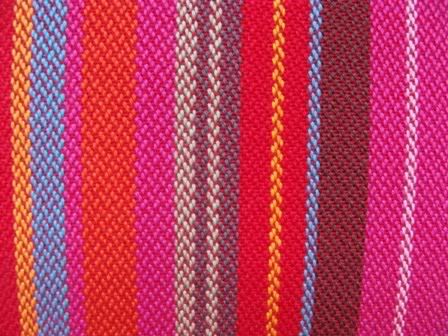 Close up of Manon Rouge
Manon Rouge is what I describe as a happy wrap. It's got bright lively colors, including red, fuchia, brown, blue, yellow, pink and others.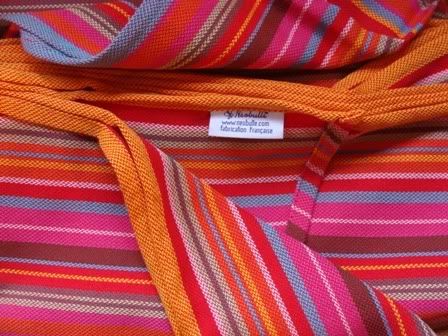 Manon Rouge
Manon Grise is a colorful wrap, but more subtle because of the base gray thread.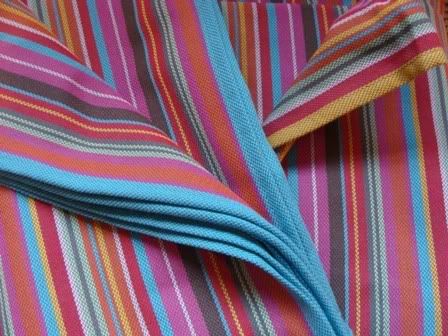 Manon Grise
Simon, Lou & Noe
Both Simon & Lou have a base brown thread, as seen below. The brown in both of these wraps is exactly the same.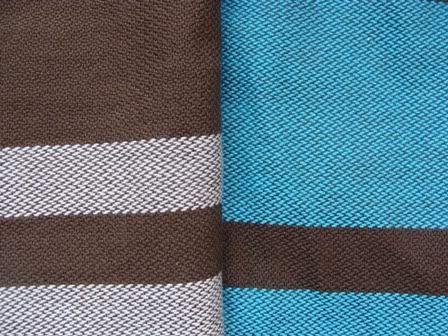 Close up of Lou (left) and Simon (left)
The light color in the Lou looks like a grayish white…depending on who you ask. My husband sees it as grayish white, I see it a bit more like cream. Here's a look at each one individually.

Lou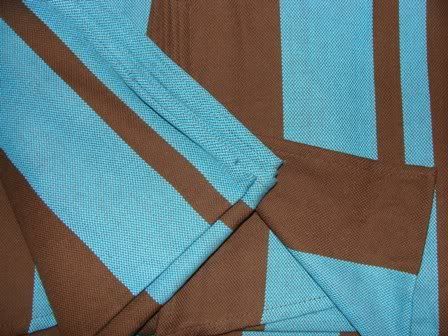 Simon
Noe has a lighter brown (compared to Lou & Simon) base thread. It's the same brown thread of the darker brown in Noe.

Close up of Noe (left) & Lou (right)
Noe is similar, though darker, than Hoppediz Cairo as can be seen below.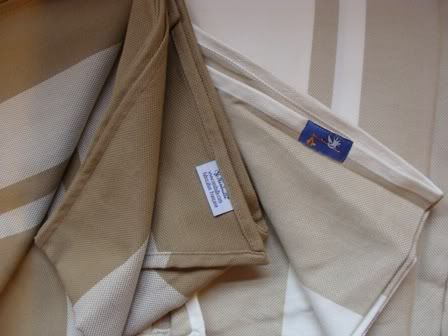 Close up of Noe (left) & Hoppediz Cairo(right)
Noe makes a very classy neutral color wrap. In this picture, you can also see the middle marker that is in all of the Neobulle wraps.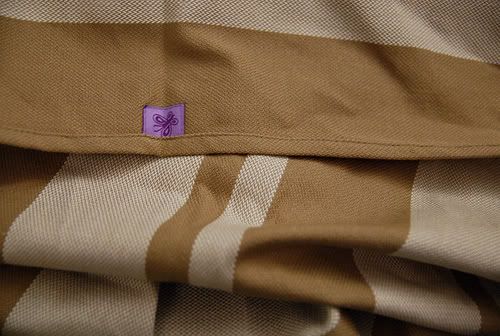 Noe
Margot
Margot is in her own category. She's a beautiful wrap with a dark pink base thread. She differs from Lou & Simon, because the brown stripes are not as dark, due to the pink base thread.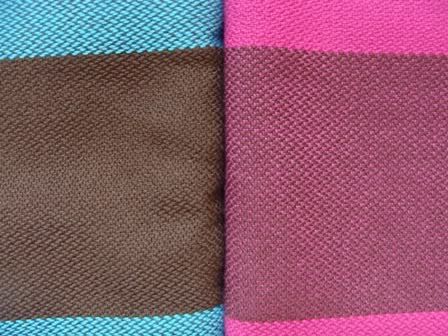 Close up of Simon (left) & Margot (left)
She's quite the beauty. A Margot owner recently described her best by using the word "sophisticated".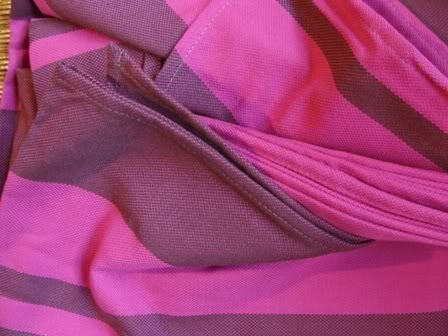 Margot
Lili
Lili is a subtle green, gray toned wrap with a light green base thread.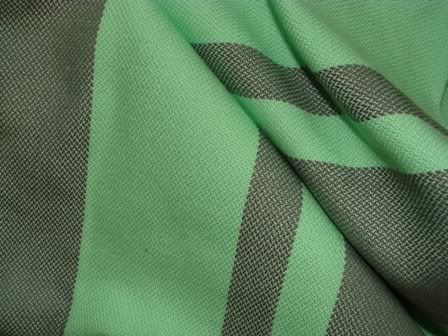 Close up of Lili
In a way, she's almost the opposite of Margot, due to her subtlety.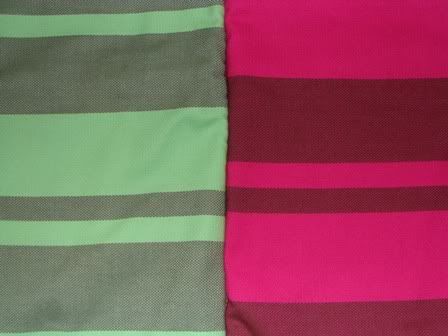 Close up of Lili (left) & Margot (right)
Martin & Lola
Martin has red, yellow and orange stripes with a red base thread. Lola has white, brown and orange stripes with an orange base thread. Besides the base thread on these, the orange stripes of both is the same.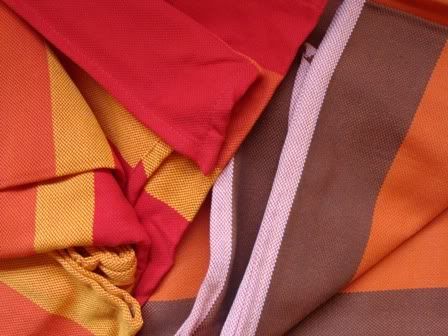 Martin (left) & Lola (right)
Martin is very similar to Hoppediz Delhi. The red in the Martin is a brighter red than the warm red in Hoppediz Delhi.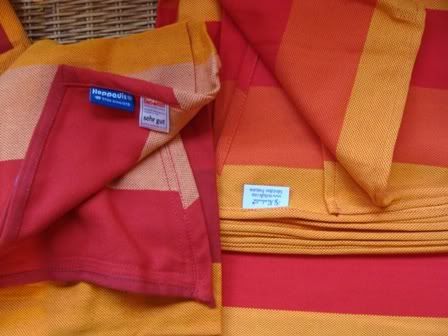 Hoppediz Delhi(left) & Martin(right)
Martin is a vibrant unique color wrap.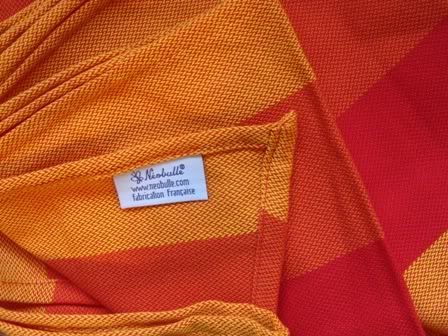 Martin
Louis
Louis is a wrap with pink, blue, and brown thin stripes with a blue base thread. It's quite pretty. The pink thread is the same pink thread color that is in the Manon Rouge and Manon Grise.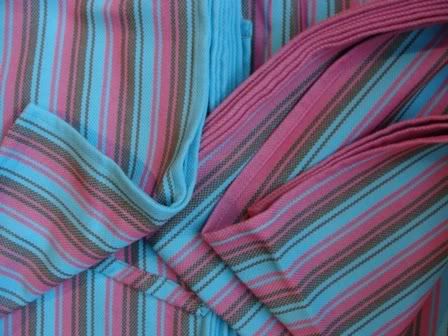 Louis
It's similar, but yet different enough from Girasol No. 25.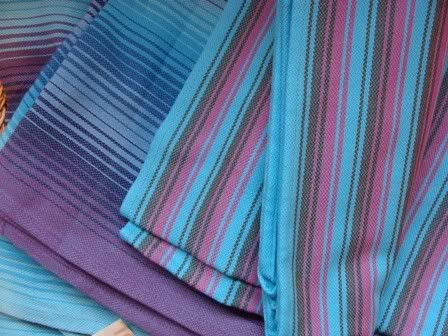 Girasol No. 25 (left) & Louis (right)
Julie
Julie is Neobulle's latest design. Julie has brown, green, white, violet and light brown stripes. The brown is the same brown and white threads are the same that are in Lou. The weft of Julie is the brown.



Neobulle's newest design – Julie
Noah
Noah is similar to Noe, but it has a white weft thread and the browns in Noe and Noah are different shades.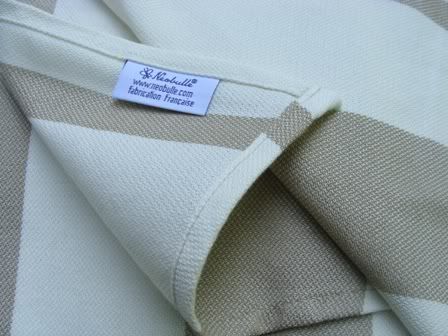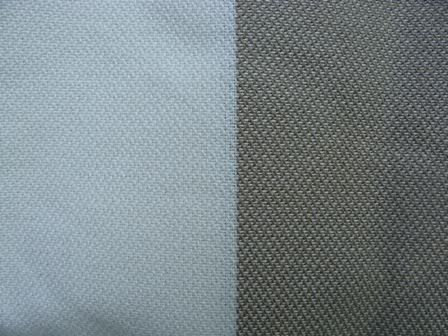 Here you can see the white thread that runs through the wrap.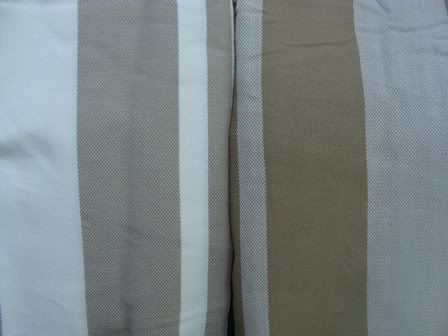 Noah (left) and Noe (right)
Organic Neobulle Ardoise, Taupe & Lin
The Organic Neobulle wraps come in three colors – Ardoise, Taupe and Lin.
Ardoise is a charcoal gray, Taupe is a medium brown and Lin is a beige (similar ot the color of oatmeal). All feel soft when new, softer after a wash and have a feel that resembles flannel. Quite loved by those that have tried them for their softness and cuddly feel. And like all Neobulle wraps, they are supportive and comfortable to wear.
Ardoise has been described as a smart wool suit, which is a very accurate description.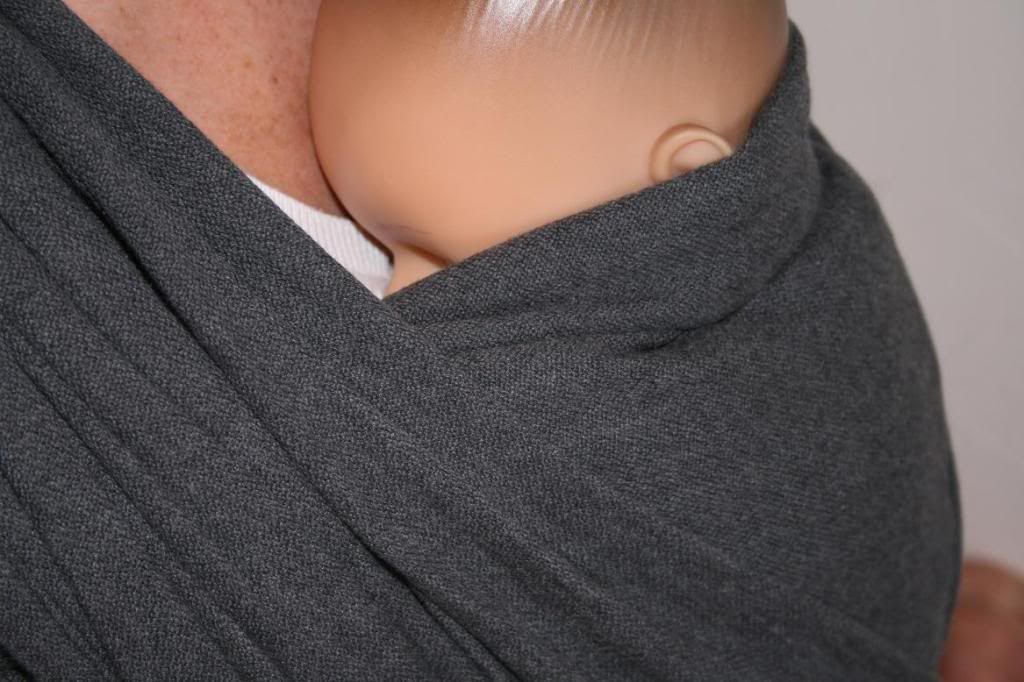 Ardoise

BB-slen Gray (top) & Neobulle Ardoise (bottom)
Taupe is a medium brown soft wrap.


Taupe
To better see the brown of the Taupe, here's a comparison picture of Hoppediz Costa Rica and Taupe.


Hoppediz Costa Rica (top) & Neobulle Taupe(bottom)
Lin is a beige color and unlike Ardoise and Taupe, it has one contrasting rail of light brown.
I hope these comparison shots and descriptions have been helpful. It's been a joy to study the various beautiful colorways of Neobulle wraps! Special thanks to those that shared their pictures of Neobulle wraps.